CASE STUDY:
INDICATION EXTENSIONS
A mid-sized pharmaceutical company wanted to maximize the value of its patented assets by identifying new commercial opportunities for its approved drugs and candidates.
PrecisionLife performed a systematic analysis of the company's pipeline and on-market assets, mapping to our unique disease insights in DiseaseBank™. We then evaluated each opportunity to prioritize those with the highest market value and easiest route to approval.
Our analysis identified 6 priority opportunities to extend into high-value indications within key therapeutic areas. The opportunities were in late-stage trials with an already established safety profile and a third of the opportunities were for drugs already approved and on-market.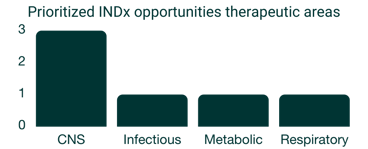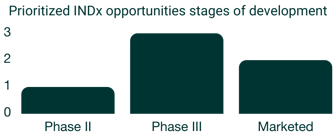 Each opportunity included patient stratification biomarkers and high efficacy prediction scores to minimize the risk of expensive trial failures due to efficacy and enable effective new treatments to get to market quicker for the benefit of patients.